ABOUT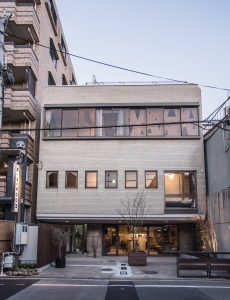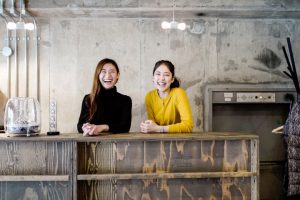 An old three story printing company's office/storage building was transformed into a small boutique hostel in Dec 2017.
The concept of HOSTEL NINIROOM is "The room of sisters, called NINI". It embodies our warm wishes to provide an opportunity for everybody to have "Another Home" in Kyoto to come back to anytime, or to feel like visiting a good friend's place.
HOSTEL NINIROOM前身是一間擁有四十年歷史的印刷工廠,經過NINI姐妹的巧手改造,於2017年12月正式開業。HOSTEL NINIROOM希望可以為來自世界各地的旅人提供一個像是去拜訪京都好友般、富有人情味的住宿環境,讓HOSTEL NINIROOM能夠成為您在京都的另外一個家。
STAY
BOOK NOW! Confirmation & Cancellation
■Check-in 4pm~10pm / Check-out ~10am
 *After the checking-in, guests can enter and leave 24 hours through a door for night only.
■Free Wifi / Air Conditioner / Shared Bathroom / Non-Smoking / No kitchen / No elevator
■Minimum guest age for stay : 3 years old (Parents accompanied is required)
■We offer a complimentary rental towels and a toothbrush when you booked a private room via this site.(except dormitory)
■Check-in 時間:16:00~22:00/Check-out時間:~10:00
 *完成入住手續之後,旅客晚間十點後依然可以自由進出
■免費無線網路/冷暖氣/共用衛浴/禁菸/無廚房空間/無電梯
■最小入住旅客年齡限制:需滿三歲以上(且需家長陪同)
■透過本網站預訂個人房我們將免費提供毛巾牙刷組(多人房除外)
■Cancel Policy
・No-show during check-in time or cancellation on the date of arrival: Reservation charge 100%.
・Cancellation on one day prior to arrival: Reservation charge 50%
■取消政策
・若預約當日無故No-show,我們將會跟您收取100%的費用。
・若為預約前日取消,我們將會跟您收取50%的費用。
BOOK NOW! Confirmation & Cancellation
1F Lounge/Cafe/Bar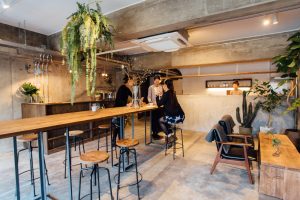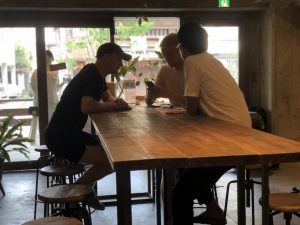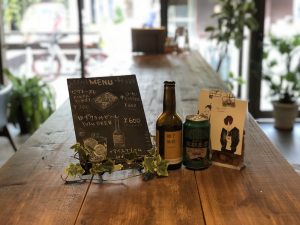 The 1st floor lounge is also open as a Cafe bar that local people can use as well. We're selling coffee, tea, some kind of alcohol and snacks. Only guests can bring and eat foods from outside. You can relax and rest up for tomorrow. Every staff in our team love the conversation with guests. Feel free to contact us;) No kitchen available but you can ask us to warm up foods in the microwave.
HOSTEL NINIROOM的一樓為對外開放的咖啡廳兼酒吧。這裡販售咖啡、茶飲和部分酒精飲料及小零食,僅有入住的旅客可攜帶外食在此享用。HOSTEL NINIROOM的員工非常樂意和各位旅客交流,如果有任何問題都歡迎向我們詢問。雖然這裡沒有共用廚房,但如果您需要加熱食物,我們都可以提供協助喲!

Shared shower rooms, and toilets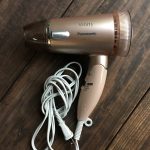 There are bathrooms on the 2nd and 3rd floors, each with 3 toilets and 3 shower rooms. The 3rd floor is for ladies only. You can use it 24 hours at any time. In addition, there is a bathroom with a bathtub on the 1st floor and it can be used by reservation system. (*usage time is limited) Shampoo, Conditioner and Body soap are setting in each 6 shower rooms and 1 bathroom with a bathtub. Hair dryers are available in the washroom.
We are cleaning up carefully everyday to keep them clean;)
HOSTEL NINIROOM的二樓及三樓分別有三間24小時開放的廁所及淋浴間,其中三樓的衛浴為女性專用。此外,一樓則有一間預約制的大浴室(一人一晚最多可以使用45分鐘)。此外,每一套衛浴裡我們都有提供免費的洗髮精、潤髮乳及沐浴乳,並有吹風機供各位使用。最重要的事,HOSTEL NINIROOM的員工每日皆會進行衛浴清掃工作,致力為旅客提供乾淨又舒適的衛浴空間。
Others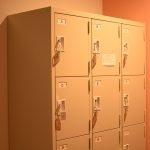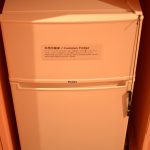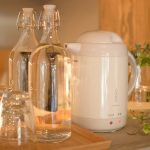 For security, safety box is available those who stays in dormitory room. There is a refrigerator that you can use freely in the corridors of each floor. Free water and hot water are available on the first floor lounge counter. No kitchen available but you can ask us to warm up foods in the microwave.
此外,HOSTEL NINIROOM有提供可上鎖之置物櫃給入住多人房的旅客,並在置物櫃旁有設有小冰箱讓旅客可以將需要冷藏或冷凍的食物放入。而在一樓的交誼廳免費提供冷水及熱水,員工們也很樂意幫忙入住旅客使用微波爐加熱食物喲!
Amenities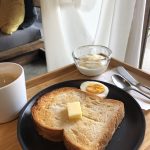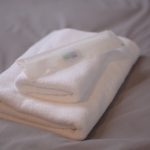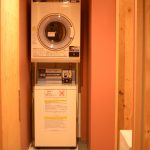 Breakfast is available from 8 to 10 at the cafe. The toast in the toast set is from a bakery in our neighborhood. You can order a toast set for an additional 200 yen to your favorite drink.
When you book a private room directly from this site, a rental towels and a toothbrush are included. If you need another one, rental towels 200 yen, toothbrush is 50 yen.
There is one washing machine and one dryer in the bathroom on each floor. You can use it at any time.
早餐提供的時間從早上八點到十點。選擇喜歡的飲品、加上兩百圓升級成吐司套餐。
吐司是從NINIROOM附近麵包店購買的。
而透過本網站預訂多人房以外之個人房我們將免費提供毛巾牙刷組。若您自其他網站訂房,毛巾組的租賃費用為200日圓,牙刷組則為50日圓。另外,我們也有提供投幣式洗衣機及乾燥機,如果您有需要歡迎多加利用。
Rental Bicycles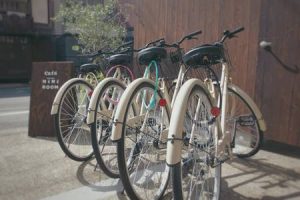 500yen / 3hours or after 5pm, 1000yen / 1day

Kyoto is the perfect for cycling! It is almost flat, and tourist attractions such as temples and shrines are so close to each other that you can drop in at a point where you got interested while running on the road. It is also recommended to do cycling along the Kamo river, flowing north and south in Kyoto city.
京都是一個非常適合騎腳踏車遊覽的城市!不僅道路平坦,且許多寺廟神社等觀光景點之間的距離都不遠,旅人可以自行安排個人專屬行程。尤其是鴨川南北貫穿京都市區,沿著河岸一路向南很不錯呢。
FAQ
Click here for solving your questions.
ACCESS
Address : 30-3 Higashi-Marutacho Sakyo-ku 606-8395, Kyoto
TEL : 075-761-2556
<Nearest station and bus stop>
Bus : Kumano Jinjya-mae 5min walk
Keihan Railway : Jingu-Marutamachi (Exit4.5) 5min walk
Subway : Marutamachi 20min walk
Neighborhood
NINIROOM is a residential areas that is quiet and calm, with a lot of museums and cultural facilities, although it is within walking distance from the center of Kyoto city.
Recommended for those who want to relax and enjoy Kyoto walking around NINIROOM based on direct access from the nearest bus stop / station to Kamogawa, Gion, Imperial Palace, Arashiyama, Fushimi Inari etc.
Moreover, because it is located south of Kyoto University and Kyoto University attached hospital, it can be conveniently used for university / hospital relations as well.
HOSTEL NINIROOM位於京都的岡崎一帶,周邊除了寧靜的住宅區之外,還有許多博物館及文化體驗設施。如果您想要在HOSTEL NINIROOM附近邊散步邊觀光的話,我們推薦您可以到鴨川、京都御苑走走,或是搭乘京阪電車前往祇園或是伏見稻荷大社。此外,這裡離日本頂尖名校京都大學的距離也很近,歡迎京都大學的考生或是需要前往京大開會的旅人們利用。